You are here
20 Years of CLIMS
Friday, November 18, 2016
"This is special. This is really special," says Nellie Dumas, Associate Director of the Bacteriology Laboratory in regard to Wadsworth Center's Clinical Laboratory Information Management System (CLIMS), an electronic way of tracking sample information from submission to reporting. 
Why is CLIMS so special?
Is it because of the impressive numbers: approximately 3,100 users outside of Wadsworth Center, 3,000 facilities, 1.8 million specimens and 16 million results to date?
No. As Nellie repeatedly emphasized, what makes CLIMS so special is the flexibility afforded by the homegrown application, capable of being modified to meet the specific needs of the many, varied laboratories and the dedicated staff who have nurtured this system for 20 years.
Before CLIMS, the Sexually Transmitted Diseases (STD) Laboratories attempted to implement an off-the-shelf software system. It didn't quite meet all of their requirements and modifying software not developed in-house was a daunting task.
In response, the CLIMS group developed a system for the STD Laboratories. This system was implemented in 1996. At first, use spread from one Infectious Disease Laboratory to another, eventually even replacing the commercial system used by the HIV Laboratory in 2003.
CLIMS was further adapted to support the environmental sample testing needs of the Division of Environmental Health Sciences Laboratories in 2011. Two years later, CLIMS was selected to replace an existing commercial system in the Trace Elements Laboratory.
Today, except for the Newborn Screening Laboratory, CLIMS supports all of Wadsworth's sample processing, from ordering of sample tests through the Health Commerce System, to accessioning and testing, to importing of results from instruments and reporting out results.
"We are not aware of any other LIMS, commercial or in-house developed, that provides the flexibility, volume, coverage and breadth of sample types," said Alok Mehta, Manager of Information Technology Services and CLIMS Project Lead, "which includes not only human samples, but also food, drinking water, animal specimens for rabies testing and mosquitoes, that CLIMS currently provides."
CLIMS at 10 and 20 Years
| Number of... | As of January 2006 | As of January 2016 |
| --- | --- | --- |
| Labs in production | 16 | 30 |
| Tests / Test groups | ~1,000 | ~2,275 |
| Active interpretations | ~1,200 | ~6,300 |
| Wadsworth Center users | ~150 | ~200 |
| Facilities registered in CLIMS | ~1,800 | ~3,000 |
| External users, via HCS, including doctor's offices, hospitals and county health departments as well as others within the Department of Health such as the Bureau of Communicable Disease Control, the Center for Environmental Health and the Bureau of HIV/AIDS; other government agencies including the Department of Environmental Conservation and Department of Corrections; law enforcement agencies at the federal, state and local levels; veterinarians and animal hospitals; other state public health laboratories and public water supplies | ~130 | ~3,100 |
| Potential or actual outbreaks including Listeria, Legionella, West Nile Virus, swine flu, anthrax, Enterovirus D68, measles, Clostridium perfringens and several E. coli, and Salmonella outbreaks, some of which were other than food-borne and required increased functionality and capacity | ~250 | ~1,400 |
| Specimens | ~600,000 | ~1.8 million |
| Results | ~3.2 million | ~16 million |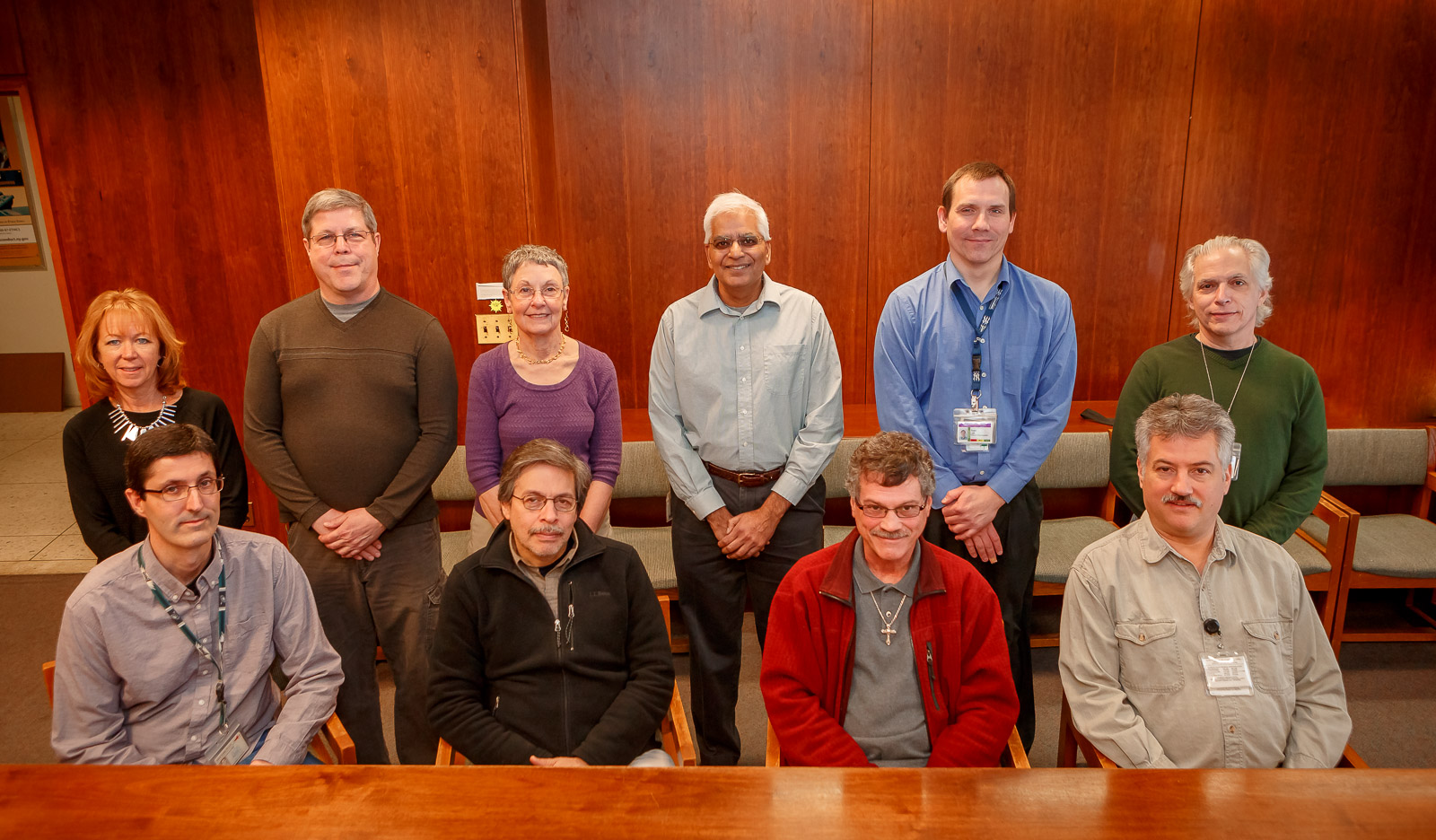 The CLIMS Group - 2016
Back row, left to right: Colleen Walsh, Timothy Troy, Karen Greene (retired and still volunteering with the CLIMS group), Alok Mehta, Todd Lee, David Sylvester Front row, left to right: David Owens, Herman Valente, David Sternberg, Dave Meyers
As Nellie pointed out, the second reason CLIMS is so special is the dedicated staff - staff who during the anthrax investigation stayed day and night to be available when the laboratorians finally came out of the BSL-3 laboratory at midnight to have "dinner" so that they could discuss what was needed and then worked quickly to implement those changes.
When asked at a weekly CLIMS meeting how long it took to develop CLIMS, everyone, including Alok Mehta and Colleen Walsh who have been with the group from the beginning, laughs, "We're still not done!" There are always additional sample types, another outbreak, new tests and new instrumentation.
Recently, the first whole genome sequencing results were reported for TB tests – a first in the United States from a public health laboratory - and those results were generated, through CLIMS.
Congratulations to the whole CLIMS group on a very successful and productive 20 years. Wadsworth Center is so lucky to have your support.