You are here
Home
» 2017 Graduates on a Mission
2017 Graduates on a Mission
On August 16, 2017 Wadsworth Center's Master of Science in Laboratory Sciences (MLS) Program graduates its fourth class.
One component of Wadsworth Center's mission is education. The work of this year's three graduates links the MLS Program to the Center's primary mission: public health.
This year's graduates have contributed specifically to our understanding and knowledge of: outbreak control, vaccine effectiveness, prophylaxis regimens, drug resistance and foodborne illness. They have also developed screening, diagnostic, and confirmatory tests for use on clinical specimens. Their work will help to improve the health of New Yorkers and beyond.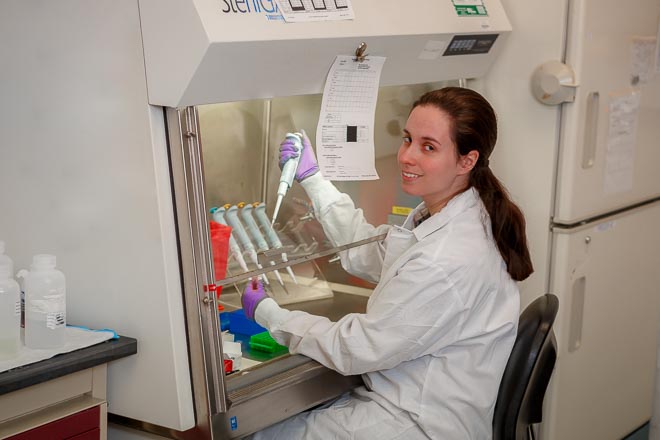 Haley Caldwell
Haley Caldwell completed a B.A. in Biology from Vassar College. During her time in the MLS Program, she validated a clinical test for measles using real-time reverse transcriptase polymerase chain reaction (RT-PCR) on urine specimens, tested new rabies primer and probe sets for specificity in a real-time rabies RT-PCR test, and analyzed the in-house MALDI-TOF MS library for mold identification.
Haley's capstone project, performed in the Laboratory of Viral Diseases under the mentorship of Dr. Patrick Bryant, investigated two next generation sequencing (NGS) methods (sequence independent single primer amplification and an Ion Ampliseq panel) for whole genome sequencing of mumps virus.
The application of the methods investigated in this capstone project were twofold. The first was as a tool for enhanced outbreak tracing, demonstrating that the application of the new NGS methods and data analysis enables more powerful discrimination between outbreaks than current methods, greatly enhancing epidemiological investigations. The second application may help to explain why mumps outbreaks have been occurring in fully vaccinated populations. Outbreak sample epitopes were compared to those in the current mumps vaccine to determine whether the vaccine failure was primary or secondary.
Haley presented her preliminary findings at the American Society of Microbiology's 33rd Annual Clinical Virology Symposium in Savannah, Georgia.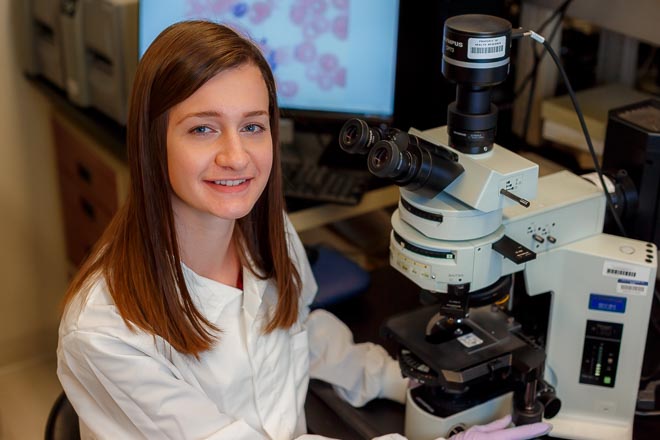 Brooke Clemons
Brooke Clemons earned her B.S. in Biotechnology with minors in Environmental Science and Microscopy from SUNY College of Environmental Science and Forestry (ESF) in 2015. Prior to her capstone project, Brooke learned about Zika testing in the Arbovirology and Diagnostic Immunology Laboratories, tested drinking water for organic compounds in the Organic Analytical Chemistry Laboratory and identified the cause of infection in mock patient specimens based upon a series of symptoms.
Brooke's capstone project was completed in the Parasitology Laboratory, under the direction of Dr. Susan Madison-Antenucci. During this time, she was trained by the Centers for Disease Control and Prevention Malaria Branch Group to perform NGS of P. falciparum, a parasite responsible for malaria in humans.
At Wadsworth Center, she developed and validated an NGS assay to identify genetic markers for drug resistance in two species of parasites responsible for causing malaria. The assay will be used to improve current recommendations for antimalarial prophylaxis and treatment for infected patients, and lead to a stronger understanding of global drug resistance trends.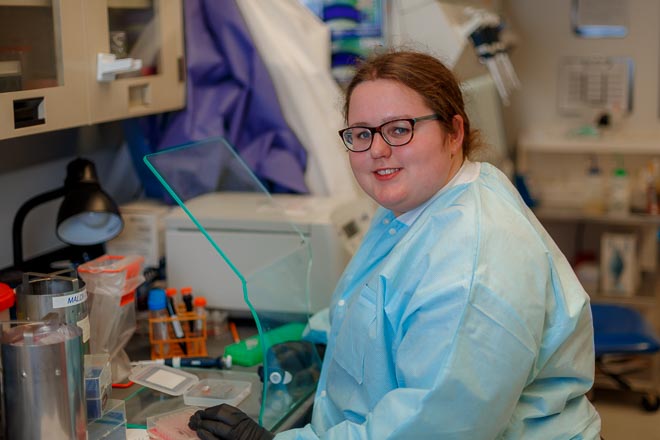 Kailee Cummings
Kailee Cummings received her B.S. in Biology with a minor in History from Union College in 2015. She gained hands-on experience in the Newborn Screening, Arbovirology and Diagnostic Immunology Laboratories. In the Bacteriology Laboratory she used modern molecular techniques as well as classical culture methods to analyze unknown isolates from the culture collection.
For Kailee's capstone project, performed in the Bacteriology Laboratory under the supervision of Dr. Lisa Mingle, Danielle Wroblewski, and Jocelyn Cole, Kailee worked on investigation of foodborne illnesses. She developed and validated a multiplex real-time PCR screening assay to detect the Bacillus cereus group and Clostridium perfringens in stool and food. This newly developed test streamlines outbreak investigation by decreasing the number of samples tested by classical culture methods and reducing turnaround time. This screening assay will be submitted to the NYSDOH Clinical Laboratory Evaluation Program to be approved for use on clinical specimens.
During her time in the Bacteriology Laboratory, she also worked on the development of a quantitative real-time PCR assay for Clostridium perfringens, one of the most common causes of foodborne illnesses in the United States.
Kailee is the recipient of the 2016 Fenton Fellowship Award, which allowed her to attend the 2017 APHL conference in Providence, Rhode Island.
Former Wadsworth Center Scientist Returns as Keynote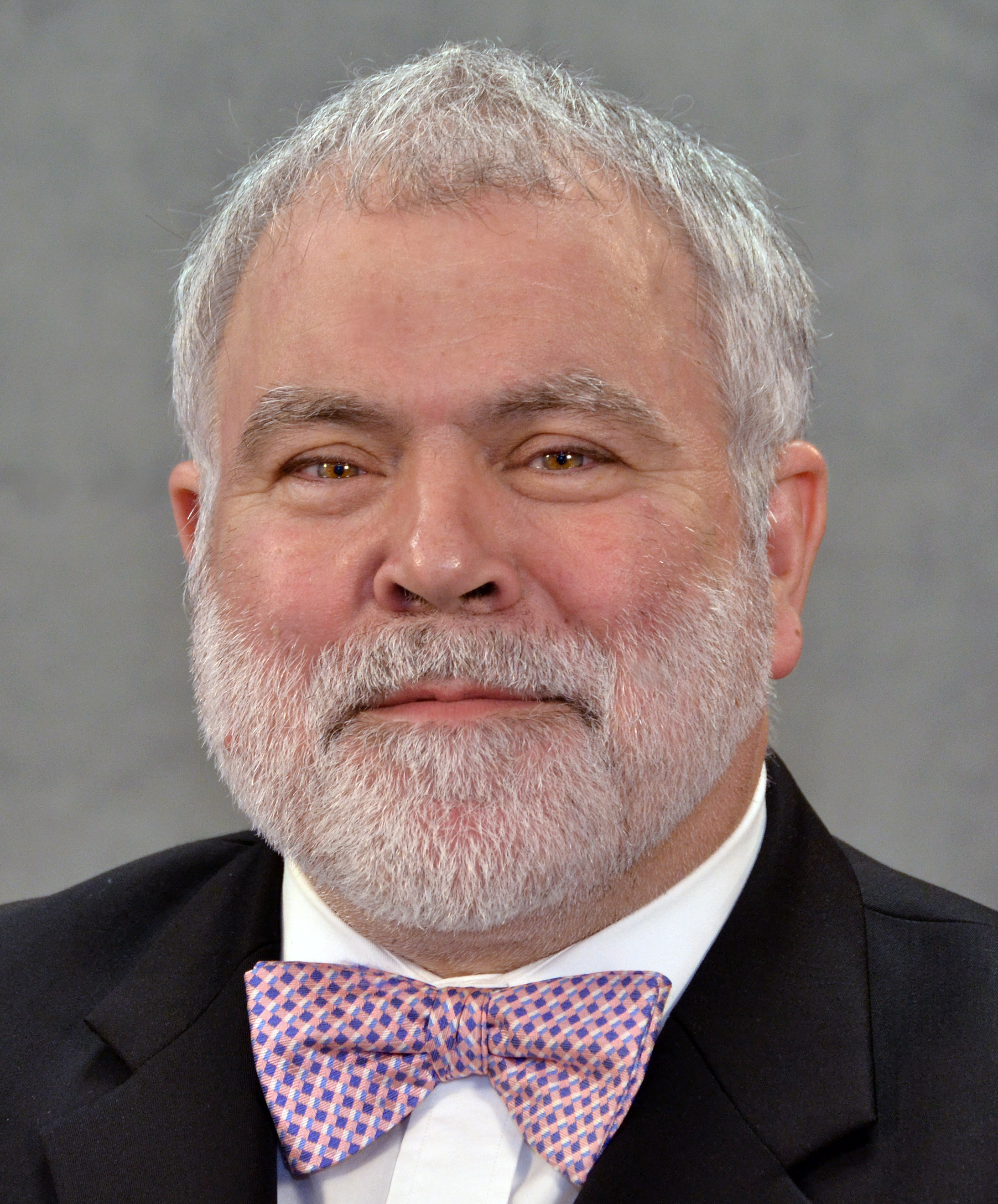 Dr. Salfinger, who was with the Wadsworth Center from 1992 to 2006, returns to give the keynote address. Dr. Salfinger is currently the Director of the Mycobacteriology and Pharmacokinetics Laboratories and the Executive Director of the Advanced Diagnostic Laboratories at National Jewish Health.
He has trained more than 50 International Fogarty Fellows, School of Public Health interns, and visiting scientists. He has published more than 160 articles and book chapters in the field of mycobacteriology and has given more than 300 lectures in 28 states and 30 countries.
Dr. Salfinger was instrumental in the development of the New York "Fast Track for Tuberculosis Testing" Program, which received the Association of State and Territorial Health Officials (ASTHO) Vision Award – Achieving Excellence in Public Health Through Innovation in 1996. He also helped implement the Florida Department of Health's Multidrug-resistant Tuberculosis Screening program, which received the same ASTHO award in 2012.