You are here
Home
» Dr. Joe Orsini Receives Legacy of Hope Award
Dr. Joe Orsini Receives Legacy of Hope Award
In commemoration of the organization's twentieth anniversary, the Hunter's Hope Foundation presented Wadsworth Center's Dr. Orsini and Duke University School of Medicine's Dr. Kurtzberg with the Legacy of Hope Award. Co-recipients in the area of science and medicine were recognized for their contributions to newborn screening and the work of the organization during the 2018 Hunter's Hope Family and Medical Symposium.
As chair of the Hunter's Hope Krabbe Disease Newborn Screening Task Force, a national group of newborn screeners, clinicians and treating physicians, Dr. Orsini has helped to develop newborn screening recommendations for laboratories, ensuring the best possible outcome of screening. The Task Force is evaluating psychosine levels and performing genetic studies to determine which screen positive infants are at highest risk for late-onset forms of Krabbe disease. They are also developing recommendations for following these patients.
Dr. Orsini designed and carried out the first study to show the importance of psychosine, a substrate of the galactocerebrosidase (GALC) enzyme, in assessment for Krabbe disease. At the Wadsworth Center, infants are identified as at risk for Krabbe disease when GALC enzyme activity is reduced and at least one mutation in the GALC gene is detected. This marker is found in very low concentrations in dried blood spots, and detection of increased levels enables laboratories to quickly identify newborns with infantile Krabbe disease versus later-onset forms.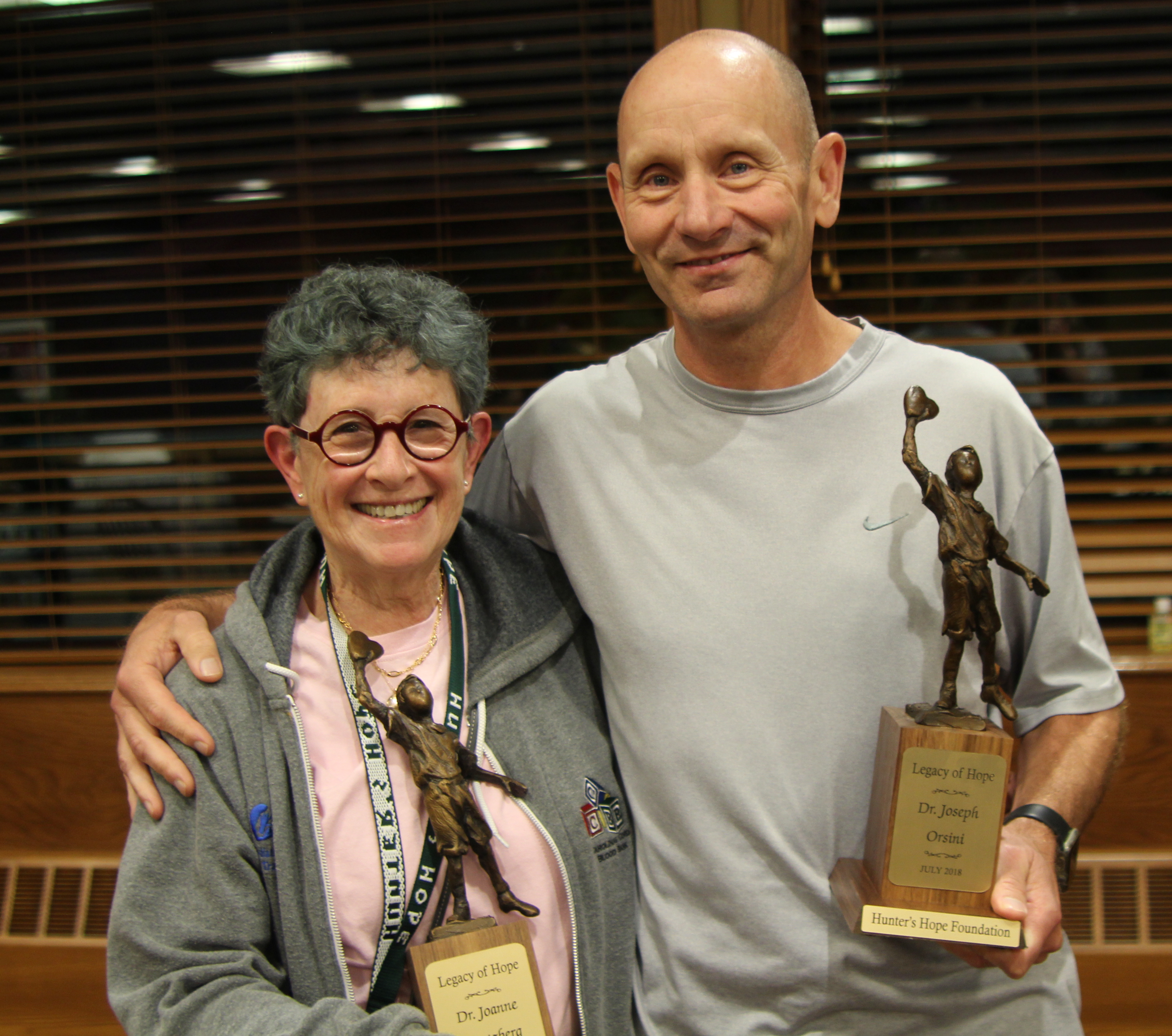 Co-recipients of the 2018 Legacy of Hope Award: Dr. Joanne Kurtzberg, Jerome S. Harris Professor of Pediatrics, Duke University School of Medicine and Dr. Joe Orsini, Deputy Director, Newborn Screening Program, Wadsworth Center.
Dr. Orsini is a lead author of a chapter on Krabbe disease in Gene Reviews. He has published review articles on lessons learned from screening for Krabbe disease, which can be applied to newborn screening for all lysosomal storage disorders. (Lysosomal disorders are rare metabolic diseases that occur as the result of defective enzymes in cells.)
He is often called on to contribute his knowledge to a popular series of webinars sponsored by the Association of Public Health Laboratories Quality Assurance / Quality Control subcommittee on test methods and implementation.
New York was the first state to screen for Krabbe disease in 2006 and adrenoleukodystrophy (ALD) in 2013. Dr. Orsini was instrumental in the implementation of both, especially the rapid implementation of the screening for ALD.
During the awards ceremony, Jacque Waggoner, CEO of Hunter's Hope, cited Dr Orsini's propensity to go above and beyond - in improving testing, contributing to initiatives, panels and task forces. It is no coincidence that Dr. Orsini received a Wadsworth Center Above and Beyond Award in 2005, only one year after arriving at the Center.