You are here
Home
» Radical Solutions: Diagnosing and Even Predicting COVID-caused MIS-C
Radical Solutions: Diagnosing and Even Predicting COVID-caused MIS-C
As we've seen repeatedly during the pandemic, it isn't always easy to get our hands on everything we need, hmmm, cue the toilet paper, especially new things. This reality translates to addressing patients who have COVID today. By using tools we already have in labs across the country, we can capitalize on the technology, instruments and the know how to use them by using them in new ways.
Rapid Acceleration of Diagnostics (RADx) is the Nation­al Institutes of Health, Eunice Kennedy Shriver National Institute of Child Health and Human Development (NICHD) initiative that sets out to do just this.
Eight awards were made to determine which children with COVID are at high risk to progress to multisystem inflammatory syndrome (MIS-C). This effort is known as PreVAIL kIds or Predicting Viral-Associated Inflammatory Disease Severity in Children with Laboratory Diagnostics and Artificial Intelligence.
Principal Investigators Juan Salazar, MD, MPH, FAAP, Children's Medical Center; Michael Lynes, Ph.D., University of Connecticut; and Wadsworth Center's David Lawrence, Ph.D., were awarded over $800,000 in 2021 and again in 2022 to identify biomarkers that would predict this condition and develop the methods to be used which would allow for timely interventions. The team, including Wadsworth Center's William Lee, Ph.D., is using biological, immunological, and molecular tests, such as grating-coupled fluorescence plasmonic (GCFP) and advanced flow cytometry. Algorithms are also being developed to diagnose MIS-C, as it can be difficult to differentiate from other inflammatory conditions like Kawasaki disease.
Once the biomarkers are identified and the algorithms established, they can be ­­­­­rolled out quickly without delays due to access to new instruments.
NIH, NICHD Grant Number: 1 R61HD105613 01
NIH, NICHD Grant Number: 4 R61HD105613 02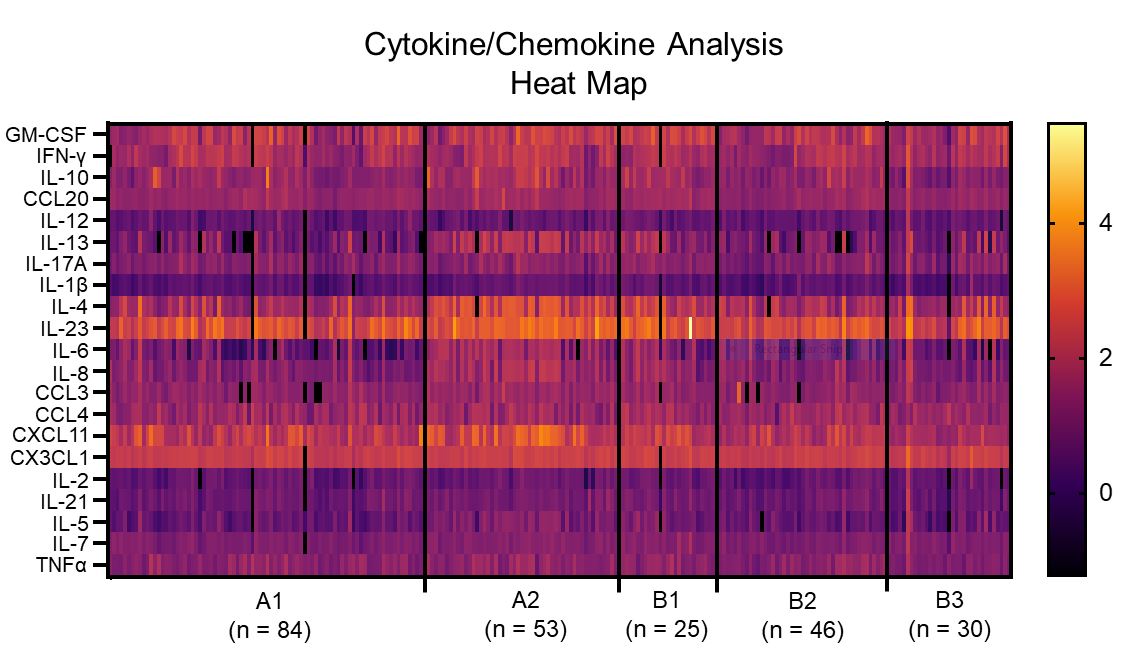 Heat map showing the MIS-C cohort has significantly higher serum levels of cytokines IL-4, 6, 8, 10, and 13 and chemokine CXCL11 than all other cohorts (all cohorts were age matched as closely as possible). A1 is COVID+ children with moderate to severe outcome. A2 is children with MIS-C. B1 is children with Kawasaki Disease, which is systemic inflammatory disease with some symptoms similar to MIS-C. B2 is children with respiratory infection. B3 is healthy children.