You are here
Home
» Seven Fellows, One Goal
Seven Fellows, One Goal
Wadsworth Center has long been committed to providing the next generation of public health professionals with the necessary knowledge, skills and abilities.
More than 300 students have made Wadsworth Center their summer home over the course of nearly 30 years through the National Science Foundation-funded Research Experience for Undergraduates (REU) Program.
Over the course of nearly 35 years, it is estimated the Center has hosted over a thousand graduate students in cooperation with the University at Albany, School of Public Health's Biomedical Sciences and Environmental Health Sciences Programs.
And in 25 years, 84 fellows, supported by the Centers for Disease Control and Prevention (CDC) and the Wadsworth Center, got their start here. In fact, many remain at Wadsworth Center, as laboratory directors, including Dr. Kimberlee Musser, Clinical Director and Director of the Bacteriology Laboratory, Dr. Christina Egan, Director of the Biodefense Laboratory and Assistant Director of the Division of Infectious Diseases, Dr. April Davis, Director of the Rabies Laboratory, and Dr. Patrick Bryant, Director of the Vaccine Preventable Disease Reference Center; and researcher Dr. Magdia DeJesus; as well as research scientists, including, Dr. Kara Mitchell, Dr. Lisa Mingle, Dr. Wolfgang Haas, Sara Griesemer, Jodie Jarvis and Samantha Wirth; who in turn serve as mentors to today's fellows. Others went on to public health laboratories throughout the United States, becoming laboratory directors. Several moved on to the CDC and the Association of Public Health Laboratories (APHL) to name a few. The positive impact of these fellowship programs cannot be overstated. In addition to the more than 100 projects completed and resulting posters and publications, fellows have aided in outbreak and emerging infectious disease investigations and developed dozens of new assays that have a real impact on the health of New Yorkers.
Currently the Wadsworth Center is home to seven fellows.
Three are APHL / CDC-supported fellows in the areas of Antibiotic Resistance, Bioinformatics, and Infectious Disease. Theirs is a 12-to-24-month, full-time program consisting of CDC orientation, distance learning, study in 12 core areas of competency, and hands-on experience in their area.
The remaining four comprise the inaugural cohort of Wadsworth Center Fellows. The Wadsworth Center Fellowship Program is a full-time, 2-year (post-doctoral), or 1-year (post-baccalaureate or post-master's level) program beginning each September.
Wadsworth Center offers a unique and dynamic training experience in public health laboratory sciences as the most comprehensive state health laboratory in the country. Enhancing this environment are state-of-the-art core facilities; new initiatives in bioinformatics, genomics, and emerging infectious disease surveillance. Fellows have the opportunity to gain experience in many areas of laboratory testing, the development and implementation of new diagnostic tools, as well as public health laboratory outbreak management. All fellows attend regular meetings, lectures take part in educational opportunities and relevant safety, technical and public health trainings.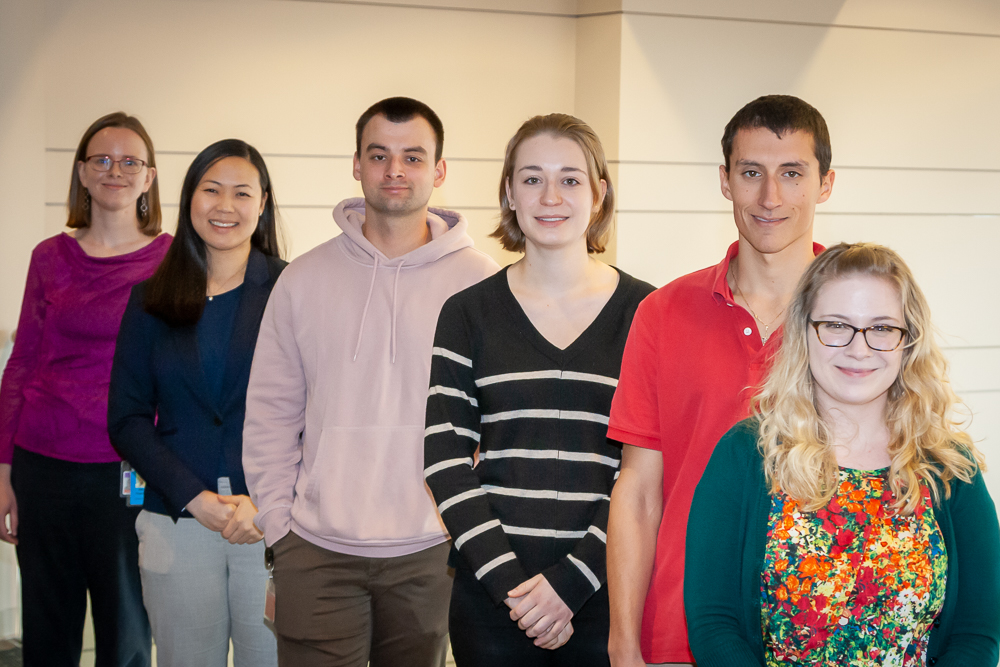 Left to right:  Catherine Prussing, June Chan, Jonathan Plitnick, Katherine Nemeth, Alexander Diaz, Kate Mastraccio. Kara Phipps' fellowship began later than the others and therefore is not pictured.
APHL Antibiotic Resistance Fellow - June L. Chan, Ph.D.
June obtained her Ph.D. from the Johns Hopkins Bloomberg School of Public Health's Department of Molecular Microbiology and Immunology. As a postdoctoral fellow at Johns Hopkins, in the laboratory of Dr. Cynthia Sears, she investigated the presence of potentially tumorigenic bacteria in the colonic biofilms of patients who may develop, or had already developed, colorectal cancer in hereditary and non-hereditary disease conditions.
Dr. Kimberlee Musser is June's fellowship mentor. June's fellowships projects include: supporting rapid detection and surveillance of antibiotic resistance in the entire northeast region of the United States, monitoring the urgent threat of carbapenem resistance, culturing and performing rapid molecular and phenotypic testing on specimens to identify the presence of carbapenem resistance and identifying the antibiotic-resistant organisms. June is also leading the Wadsworth Center Antibiotic Resistance (AR) surveillance of specimens from six different healthcare facilities to better understand carbapenem resistance in recipients of solid organ transplants, a population at very high risk for acquiring carbapenem resistant organisms (CROs). Monitoring the prevalence of CROs in solid organ transplant recipients at each facility informs public health actions.
APHL Bioinformatics Fellow - Catherine Prussing, Ph.D.
Kate received a master's degree in Infectious Disease Epidemiology from Johns Hopkins University and completed an Applied Epidemiology fellowship at the NYC Department of Health and Mental Hygiene. She obtained her Ph.D. from the University at Albany Department of Biomedical Sciences in the laboratory of Dr. Jan Conn, where she investigated the effect of anthropogenic environmental modifications on the biting behavior, population genetics, and ecology of the South American malaria vector Nyssorhynchus darlingi.
Kate's fellowship project looks at the relatedness of bacterial plasmids carrying antibiotic resistance genes using long-read sequencing data and is a joint project of the Bioinformatics Core, under the mentorship of Dr. Erica Lasek-Nesselquist, and the Bacteriology Laboratory, under the mentorship of Dr. Kimberlee Musser.
APHL Infectious Disease Fellow - Jonathan Plitnick, M.A.
Jonathan Plitnick received from SUNY Binghamton both his B.A. in Biological Sciences in 2016 and M.A. in Biology with a focus in Molecular Biology in 2017. After graduation, he joined Dr. Joe Wade's laboratory at the Wadsworth Center and worked on several projects, including mapping the transcriptional regulatory network of E. coli.
In May of 2019 Jon began his APHL Emerging Infectious Disease fellowship in Joe Wade's molecular genetics research laboratory. Here he used ChIP and RNA-seq techniques to further map the regulon of the sigma factor fliA, known to regulate genes required for flagella formation which are important in the invasion of the host gut cells. In October he moved to the Laboratory of Viral Diseases under the direction of Dr. Kirsten St. George, Chief of the Laboratory of Viral Diseases, where Jon is performing whole genome sequencing on measles samples from the outbreak in New York. This work will elucidate chains of transmission and identify unique importation events.
2019 Wadsworth Center Fellow - Alexander Diaz, M.S.
Alex received from Quinnipiac University both his B.S. in Biology in 2014 and his M.S in Molecular and Cellular Biology in 2016. At the Center for Vector Biology and Zoonotic Diseases in the Connecticut Agricultural Experiment Station, he worked for two summers collecting mosquitoes in the field and performing laboratory testing in a biosafety level 3 laboratory for a statewide mosquito and arbovirus surveillance program, he then worked there full-time as a Research Assistant and Laboratory Manager performing testing for tick surveillance.
Currently, Dr. Anil Ojha is mentoring Alex on a project using Mycobacterium smegmatis to determine why ribosomal hibernation makes bacteria from this genus so persistent to treatment with antibiotics. Next, Dr. Christina Egan mentors Alex on several projects in her laboratory.
Alex's career goal is to work in a public health laboratory on zoonotic pathogens relating to biodefense. He feels this fellowship program prepares him to meet his goal by participating in both research and clinical projects.
2019 Wadsworth Center Fellow - Kate Mastraccio, Ph.D.
In 2013 Kate received her B.S. in Biology from Utica College, where she was an American Society for Microbiology Undergraduate Research Fellow. She received her doctorate in Emerging Infectious Diseases from the Uniformed Services University of the Health Sciences (USUHS) in 2018. For her thesis, titled "A monoclonal antibody-based therapy against CNS-resident lyssavirus infection", she developed a preclinical mouse model of Australian bat lyssavirus (ABLV) infection, investigated the efficacy of lyssavirus-neutralizing monoclonal antibodies against ABLV and rabies virus infection in mice, and identified an essential role for CD4 T cells in the clearance of ABLV infection from the brains of mice. In an additional year as a postdoctoral researcher at USUHS, she studied the anti-viral mechanisms of CD4 T cells in lyssavirus-infected mice. She presented her research in numerous oral and poster presentations at national conferences, winning several presentation and young investigator awards. 
Kate is currently rotating in Nick Mantis' laboratory where she is working on developing assays to define the mechanisms of antibody-mediated protection to Borrelia burgdorferi. Her next rotations will be with the Bacteriology and Biodefense Laboratories under the mentorship of Dr. Kimberlee Musser and Dr. Christina Egan, respectively.
Kate's goal is to work as a research scientist at the Wadsworth Center and to work with clinically-relevant pathogens and collaborate with others to generate large-scale, long-term solutions that will improve the quality of life of large numbers of people. She is interested in applied research in the areas of biodefense and tick-borne diseases.
2019 Wadsworth Center Fellow - Katherine Nemeth, B.S.
Katie received her B.S. from The George Washington University (GWU) in 2019 with a concentration in Cellular and Molecular Biology and a minor in Biological Anthropology. She was a Presidential Scholar and participated in the University Honors and Women's Leadership Programs. Katie was an undergraduate teaching assistant in a GWU introductory biology laboratory, has undergraduate research experience using Drosophila, was a member of the 2017 REU cohort at the Wadsworth Center under the mentorship of Dr. Todd Gray, and wrote a senior honors thesis entitled "Testing three sample-specific metric methods for sex determination of subadults using maximum mesio-distal crown width of permanent dentition".
Currently, Katie is determining the level of lead in children's teeth in the Inorganic Chemistry Laboratory under the mentorship of Charelle Trim, M.S. Next, Katie travels to Dr. Jan Conn's laboratory where she will investigate the source of the malaria vector mosquitoes' blood meal.
At the Wadsworth Center, she wishes to learn about environmental sciences and population genetics. After her fellowship, Katie would like to pursue a doctoral degree in evolutionary anthropology and believes the fellowship will to inform her future work and help her attain her goal of becoming a professor, running a laboratory and mentoring students.
2019 Wadsworth Center Fellow – Kara Phipps, Ph.D.
Kara received her B.S. in Biology from Southwest Baptist University where she performed research investigating the role of fluoroquinolone treatment on biofilm formation and motility of Pseudomonas aeruginosa. Following graduation in 2014, Kara completed a doctoral program in Microbiology and Molecular Genetics at Emory University, where she studied under the mentorship of Dr. Anice Lowen. Kara's thesis focused on the identifying factors which impact the frequency of gene reassortment and dependence on multiple infection in influenza A viruses. Her work revealed that both viral and host factors play a role in determining infection efficiency in influenza A viruses.
Kara's fellowship began in December 2019. She plans to pursue her interest in employing viral genomic sequence analysis to inform epidemiological investigation in the Virology Laboratory under the direction of Dr. Kirsten St. George and the Bloodborne Viruses Laboratory where she will be mentored by Dr. Monica Parker. She also plans to participate in projects related to diagnostic development and applied biosafety. Kara plans to continue her career as a public health research scientist in a government setting following completion of her fellowship.