You are here
Home
» Tanya Halse Receives National TB Laboratorian Award
Tanya Halse Receives National TB Laboratorian Award
Wadsworth Center's Tanya Halse was the 2022 recipient of the Ed Desmond Award from the National Tuberculosis Controllers Association (NTCA).  This award honors exemplary service, dedication, or leadership to a tuberculosis (TB) laboratory professional and it's easy to see why Tanya was nominated by Dr. Margaret Oxtoby and colleagues in the New York State Department of Health (NYSDOH) Bureau of TB Control.
For more than 30 years, Tanya has helped Wadsworth Center lead the way in advanced diagnostic testing and reference services for diseases of public health importance. For the past 16 years, her focus has been on TB diagnostics and surveillance. Her leadership in the development and advancement of molecular diagnostic tests has made New York State a national leader in the timely and accurate identification of Mycobacterium tuberculosis (MTB) and other non-tuberculous mycobacteria. The approval of the whole genome sequencing (WGS) clinical assay at the Wadsworth Center in 2016 was the first in the nation for a public health laboratory and has led a revolution in public health testing for MTB. In addition to more timely pathogen identification, these advancements in molecular assays also detect mutations in the bacterial genome that can contribute to drug resistance and treatment failure and support epidemiologic investigations into relationships among cases. Weekly reports of WGS data provided by Tanya and her staff to the Bureau of TB Control are crucial for ensuring timely treatment decisions, cluster identification, and effective implementation of control measures by local health departments and clinicians.
As the supervisor of the Molecular Mycobacteriology and Meningitis section of Bacteriology, Tanya leads a team of five scientists that perform this critical molecular testing. She is also responsible for reviewing all testing and quality control efforts, conducts ongoing data analysis, and contributes to new assay development. Through collaborations with other state public health laboratories and by serving as faculty for Centers for Disease Control and Association of Public Health Laboratories trainings, Tanya continues to support the expansion of molecular diagnostic testing for MTB across the United States. Tanya's work on molecular diagnostics for MTB has helped improve public health and patient care for people across the nation and her exemplary service, dedication, and leadership in TB laboratory testing make her the perfect recipient of the Ed Desmond Award.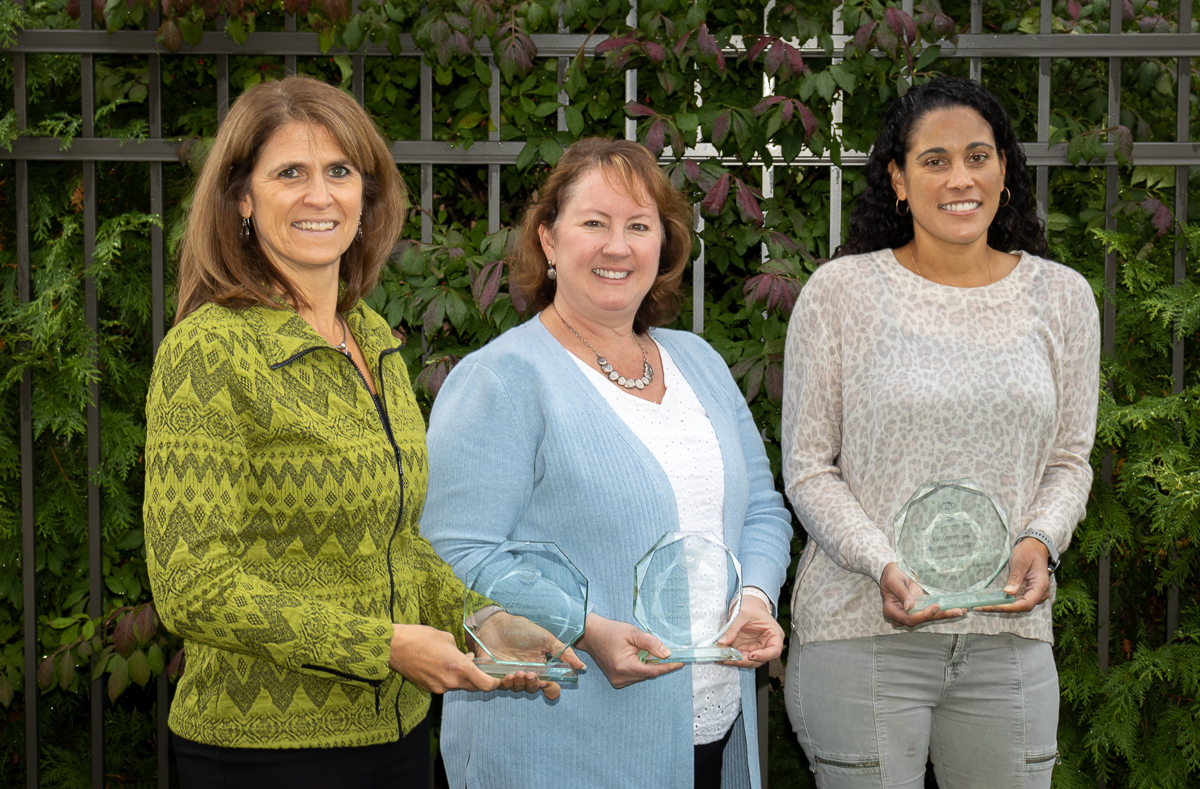 Tanya Halse (left) was the 2022 recipient of the Ed Desmond Award from the National Tuberculosis Controllers Association (NTCA). She is joined by other two Wadsworth Centers scientists who have been previously recognized by the NTCA for their work in the TB laboratory: Dr. Kimberlee Musser (center) and Dr. Marie-Claire Rowlinson (right).