You are here
Home
» Under Construction…Permanently. 25 Years of Wadsworth Center's Clinical Laboratory Information Management System (CLIMS)
Under Construction…Permanently. 25 Years of Wadsworth Center's Clinical Laboratory Information Management System (CLIMS)
Thursday, February 10, 2022
Having spent a lot of time in our homes recently, most of us are probably contemplating a dream renovation. If that project requires several professionals - plumbers, electricians, carpenters, etc., we might have second thoughts.
Critical to our mission and response to public health, Wadsworth Center is relatively unique in having its own in-house professionals who can readily implement CLIMS changes big and small – the addition of a new test, a new instrument with data to import, an update to reporting language. Without the CLIMS team, even the most minor changes would necessitate contact with an outside software company, incurring additional fees, explanation of our needs, and likely, time in the queue before our job could be addressed. Such a process would stifle the ongoing improvements we are able to make without these restrictions.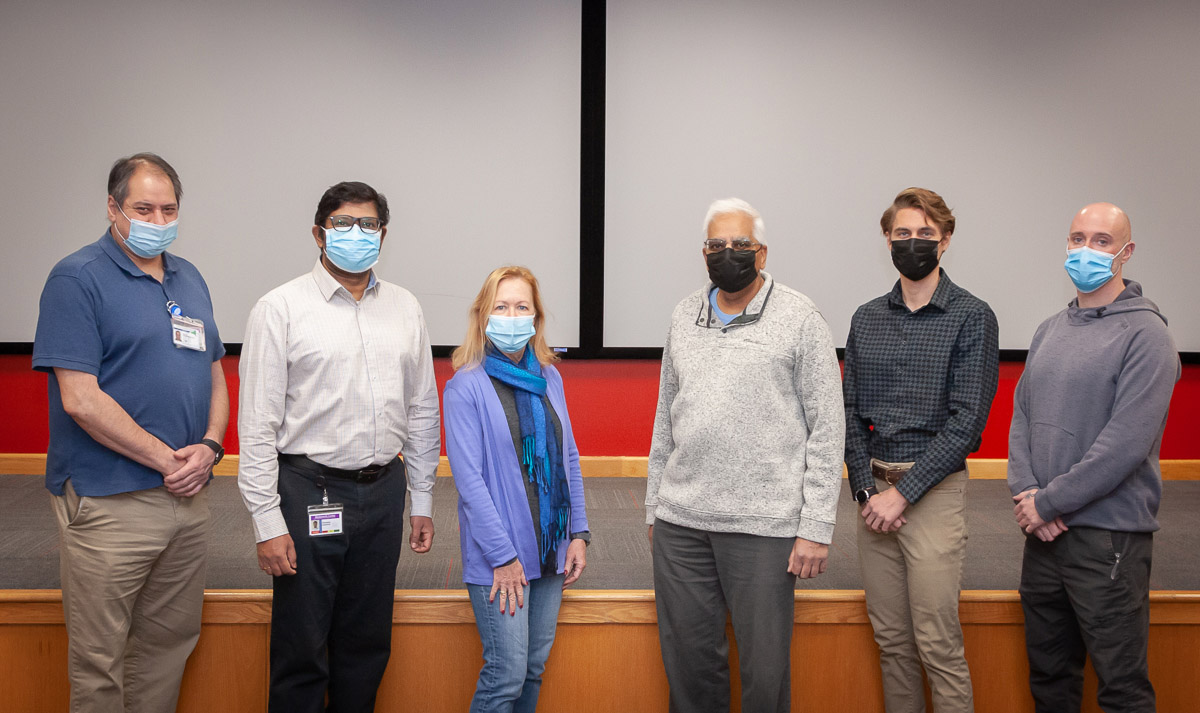 Pictured from left to right: Joel Spina, Ramesh Appadurai, Colleen Walsh, Alok Mehta, Devin Akerley, and Charles MacGowan.
And build they have. Starting in 1996 as a sample tracking and reporting system for one laboratory in the Division of Infectious Diseases, CLIMS has been implemented in every infectious disease laboratory and is now integrated into laboratories in the Division of Environmental Health Sciences including, Asbestos, Lead, Laboratory Response Network for Chemical and Nuclear Testing, and Medical Marijuana, among others. From 2020 to present, many new tests, interpretations and other changes were also rapidly implemented to address SARS-CoV-2.
Growth in CLIMS Usage
|   | 10 Years | 20 Years | 25 Years |
| --- | --- | --- | --- |
| Outbreaks | ~250 | ~1,400 | 1,881 |
| Specimens | ~600,000 | ~1,800,000 | 2,594,116 |
| Results | ~3,200,000 | ~16,000,000 | 30,129,920 |
| CLIMS-registered Facilities | ~1,800 | ~3,000 | 4,593 |
Recent construction enables reports on groups of specimens and/or environmental samples connected to outbreak investigations. In this way, test details and next generation sequencing results indicating if pathogens are related can be rapidly provided to public health epidemiologists, aiding in foodborne and Legionella outbreaks, and intercepting the transmission of antimicrobial resistant pathogens in health care facilities. Blueprints also hold plans for moving the platform from a desktop application to a web-based user interface while retaining functionality and incorporating efficiencies.
CLIMS from Start to Finish
Upon collection, patient information can be submitted electronically through the Health Commerce System (HCS), thereby automatically entering it into CLIMS.
At the lab, data on the specimen tubes is matched to data entered into CLIMS. For samples with paper order forms, the data is entered, and the form is scanned into CLIMS.
For large batches of specimens, a new CLIMS upload of patient information now expedites the process, reducing the potential for errors by both the submitter and Wadsworth Center.
Through CLIMS, barcode labels are printed for each of the various vials the specimen will be transferred to throughout the testing process.
Barcodes and sample lists are utilized throughout the testing process, at instruments and for specimen paperwork, eliminating manual entries and removing the potential for errors.
For future testing and research, a specimen aliquot is labeled and scanned into a location for freezer storage.
Quality control information is automatically captured during testing.
State and federal regulatory functions are built into the applications creating audit trails for inspections.
Documents such as submission forms, instrument results, lab notes, etc., can be attached to give a more complete picture of the specimen and the work done to complete the testing.
For internal use, notes regarding epidemiological information provided verbally, testing specifics, or results obtained at other labs, can be added at any stage. Notes can also be added to reports, clarifying results.
Results are matched to corresponding sample information, reviewed, and reported in many formats including paper and HCS. New York City and external public health partners require a unique format. Positive results for communicable diseases are reported through yet another mechanism to local health departments, while the Centers for Disease Control and Prevention (CDC) requires reports in different formats and through different routes depending upon the organism.
Information for a given specimen received might include dozens of test results and interpretations, and multiple reports released over time as results become available and to meet required turnaround times. When finalized and reviewed, results can be simultaneously sent to submitters, state epidemiologists, county health departments, and often CDC. All of this data is contained within CLIMS so that future data analysis reports can be quickly generated, like the number of tests a laboratory performs per year, and the number of submissions by county, facility and test request, all to monitor trends, publish annual reports, and provide data for manuscripts, research activities and grant deliverables.
When asked five years ago if they had finished CLIMS, the CLIMS team laughed. They weren't packing up their tools then. Today, the dust hasn't settled from all the changes made to address the pandemic, and they don't plan on putting their hard hats away any time soon.