You are here
Home
» Wadsworth Center Graduates its Third Class of Master of Science in Laboratory Sciences Students
Wadsworth Center Graduates its Third Class of Master of Science in Laboratory Sciences Students
Thursday, September 15, 2016
In Albany, as in many places, August is the time when college students start back to school. But this August 17th at the Wadsworth Center, the Master of Science in Laboratory Sciences students are just finishing.
As the only master's degree program sponsored by a public health laboratory, students are immersed in the business of public health, from the policy, regulations and standards, to the research that goes into developing diagnostic tests and the testing of clinical and environmental specimens.
The experience students Lynn Leach and Joshua Rose received over the course of two years is invaluable. They have witnessed firsthand the public health response to the Legionella outbreak, Ebola, the Zika virus, the development of the medical marijuana program, the response to PFOA and PFOS contamination as well as a myriad of other experiences. They have watched as cutting-edge methods such as next-generation sequencing and MALDI-TOF MS have been applied to pathogen detection, measurement of antibiotic resistance and newborn screening – to name a few – all work that keeps New Yorkers healthy day to day.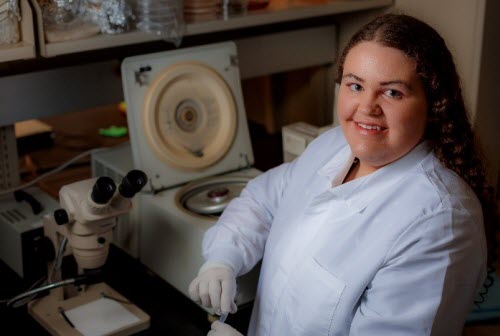 Lynn Leach
Lynn Leach completed her capstone project in the Mycology Laboratory, under the supervision of Dr. Sudha Chaturvedi, where she worked to develop and validate a multiplex real-time PCR assay to identify Candida species in blood. This assay will reduce the turnaround time for Candida species identification for patients that have a bloodstream yeast infection (candidemia). Further, the assay will allow physicians to make appropriate initial selection of antifungal treatments.
"I have always had an immense interest in science and health," Leach said. "The MLS program has given me exposure to a vast array of public health sciences and I have further developed my scientific interests in infectious diseases. Completing the MLS program has enabled me to fulfill both of those interests, but more importantly it has allowed me to learn how to use scientific research to directly benefit public health."
Leach completed a bachelor's degree in biology from Elmira College. During her undergraduate studies, she conducted independent study with Dr. Christine Bezotte investigating capsule formation in laboratory strains of Klebsiella pneumoniae. She presented her findings at the College of Natural and Mathematical Sciences Undergraduate Research Symposium at the University of Maryland Baltimore County. In June 2014, she was awarded the Elmira College Emerson Liscum Diven Prize, given to the junior or senior of high academic achievement who has contributed the most scholarly work in biology.
In her first year with the MLS program, Leach's high academic achievement earned her the Fenton Fellowship. During her second year, she presented a poster at the American Society of Microbiology Microbe 2016 Meeting, titled "Retrospective Analysis of Candida parapsilosis Species Complex Comparing Molecular and MALDI-TOF-MS Identification Methods."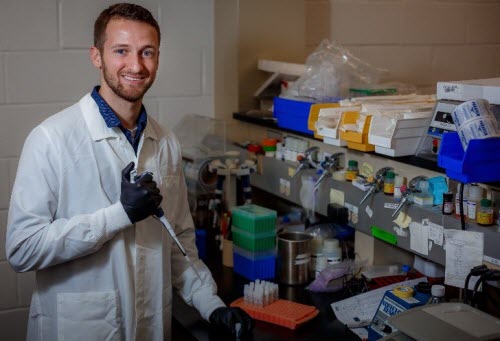 Joshua Rose
Joshua Rose's capstone work was performed in the Arbovirology Laboratory, under the guidance of Dr. Alex Ciota and Dr. Laura Kramer. He utilized a unique flavivirus model to investigate genetic differences contributing to pathogenic emergence within vertebrate hosts, increasing the understanding of flavivirus evolution. With public health threats like Zika virus rapidly emerging, insights from his project will be helpful in understanding the capabilities of flaviviruses within vertebrate hosts. His project will also provide insights for antiviral drug design and vector control measures, giving the scientific community new potential "targets" to aim for when it comes to combating flaviviruses.
"Ultimately, I want my research to benefit the health of the public," Rose said. "I find great satisfaction in helping others and couldn't imagine a more suitable career for myself than that of a research scientist."
Rose earned his bachelor's degree in biochemistry with a minor in classical civilization from Union College in 2014. He was the sole recipient of the W. Howard Wright Chemistry Scholarship for the Class of 2014. He was also awarded the Edward R. Kane Summer Research Fellowship his junior year, allowing him to perform his undergraduate research project with Dr. Margot Paulick. His undergraduate research was aimed at revolutionizing the medical industry by developing novel methods to store cells and tissue. He developed cell-permeable analogs of the sugar trehalose that allowed for passive diffusion into mammalian cell lines. After incubating Jurkat cells with his analog, he was able to confirm the presence of the cryoprotective form of trehalose within these cells. This work earned him membership in the Sigma Xi Scientific Research Society his senior year.
Outside the lab, Rose was a member of Union College's football team for his four years there, and was appointed team captain in his senior year.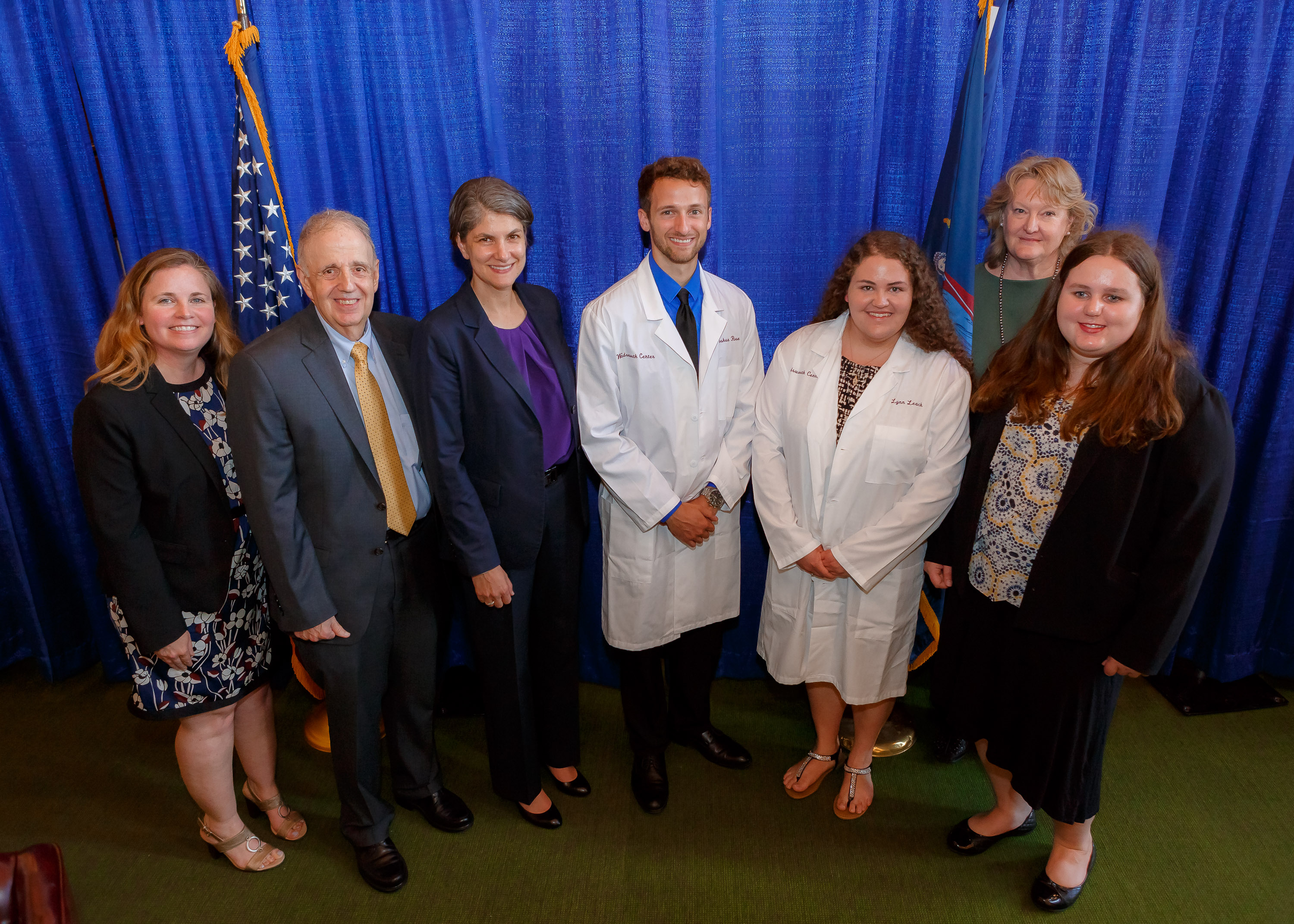 Dr. Christina Egan, Director of the Master of Science in Laboratory Sciences Program, with guest speaker Dr. Michael Pentella, Executive Deputy Commissioner Sally Dreslin, graduates Joshua Rose and Lynn Leach, Wadsworth Center Director Dr. Jill Taylor, and Kailee Cummings, winner of the 2016 Fenton Fellowship for high academic achievement.
Most previous graduates are pursuing careers in public health laboratories, including the Wadsworth Center, the NYC Public Health Laboratory and the federal Centers for Disease Control and Prevention.
Guest speaker at the graduation ceremony was Dr. Michael Pentella, the newly appointed director of the Bureau of Laboratory Sciences, Hinton State Laboratory Institute, Massachusetts Department of Public Health. He has more than 30 years of experience in clinical and public health laboratories and is board certified in medical microbiology and infection control. Dr. Pentella previously served as associate director of the Iowa state public health laboratory and taught at the University of Iowa's College of Public Health.
DOH Executive Deputy Commissioner Sally Dreslin, R.N., and Wadsworth Center Director Dr. Jill Taylor also addressed the graduates, their families and friends, and Wadsworth staff at the ceremony. Dr. Christina Egan, Director of Scientific Education for the Master of Science in Laboratory Sciences Program, was the event emcee.