You are here
Home
» Wadsworth Center Unveils Statue of Ignaz Semmelweis
Wadsworth Center Unveils Statue of Ignaz Semmelweis
Wadsworth Center Director Dr. Jill Taylor welcomed to the ceremony honored guests and speakers including Dr. Howard Zucker, New York State Health Commissioner; H.E. Ambassador István Pásztor, Consul General, New York; and Dr. Jonathan Jakus, Director of Obstetrics and Gynecology Montefiore Nyack Hospital and US Representative of the Semmelweis Memorial Committee.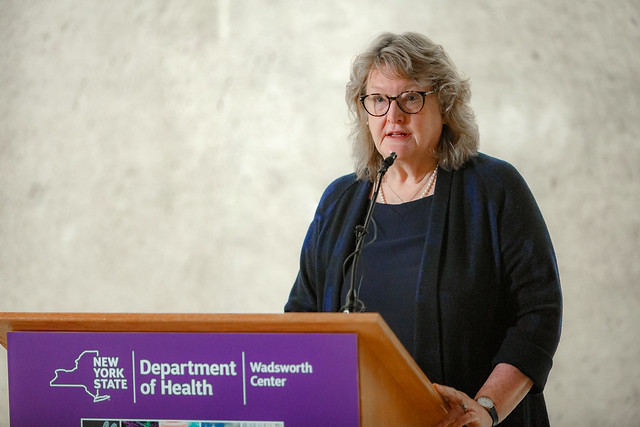 Wadsworth Center Director Dr. Taylor delivering welcoming remarks during the unveiling ceremony.
In commemoration of the 200th anniversary of the birth of Dr. Semmelweis in 1818, Semmelweis University gifted 20 similar statues to locations around the world from Tokyo to Los Angeles.
In his presentation Dr. Jakus stated, "Most advances in medicine are evolutionary; revolutionary changes are rare. The realization by Dr. Semmelweis that hand washing with a chlorine solution decreases maternal sepsis, was one these revolutionary changes. He established the discipline of modern hand hygiene, which is as valid today as it was in his time."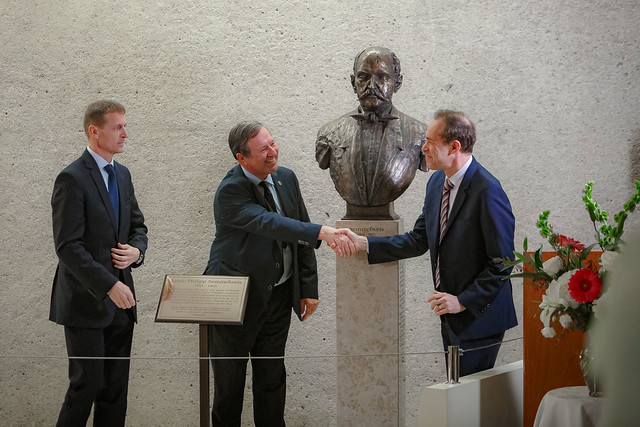 H.E. Ambassador István Pásztor, Dr. Jonathan Jakus and Dr. Howard Zucker unveiling the Semmelweis statue.
Hungarian physician Ignaz Philipp Semmelweis, while director of the maternity ward of the Vienna General Hospital, observed that the mortality rate of mothers treated by doctors and medical students was much higher than that of mothers treated by midwives. He hypothesized that doctors and medical students transferred "cadaverous particles" from their dissections to the delivery room. In response, he required hands be washed before treating patients and later between patients. Mortality rates were drastically reduced. Medicine has made great strides in the intervening years. Dr. Semmelweis was honored at the unveiling not only for recognizing the importance of hand hygiene, but for his lessons and values which are equally as relevant now: as a model of epidemiology – recognize, explain, act; in addressing issues of hospital acquired infections; and perhaps most of all, in perseverance. 
Learn more:
Infection control and quality health care in the new millenium
Ignaz Semmelweis: the "Savior of Mothers": On the 200th anniversary of his birth