You are here
Home
» You say tomato. I say Solanum lycopersicum.
You say tomato. I say Solanum lycopersicum.
Tuesday, January 17, 2017
How can scientists, who represent approximately 2.5% of the total workforce, communicate effectively with the rest of us?
This was the topic of an interactive workshop held recently at the Wadsworth Center. The American Society of Microbiology's (ASM) Eastern New York Branch sponsored the event for their undergraduate, graduate and post–doctoral trainee chapter. Among those in attendance were students and post-docs from the Wadsworth Center, Albany Medical College, UAlbany, Albany College of Pharmacy and Health Sciences and West Point Military Academy.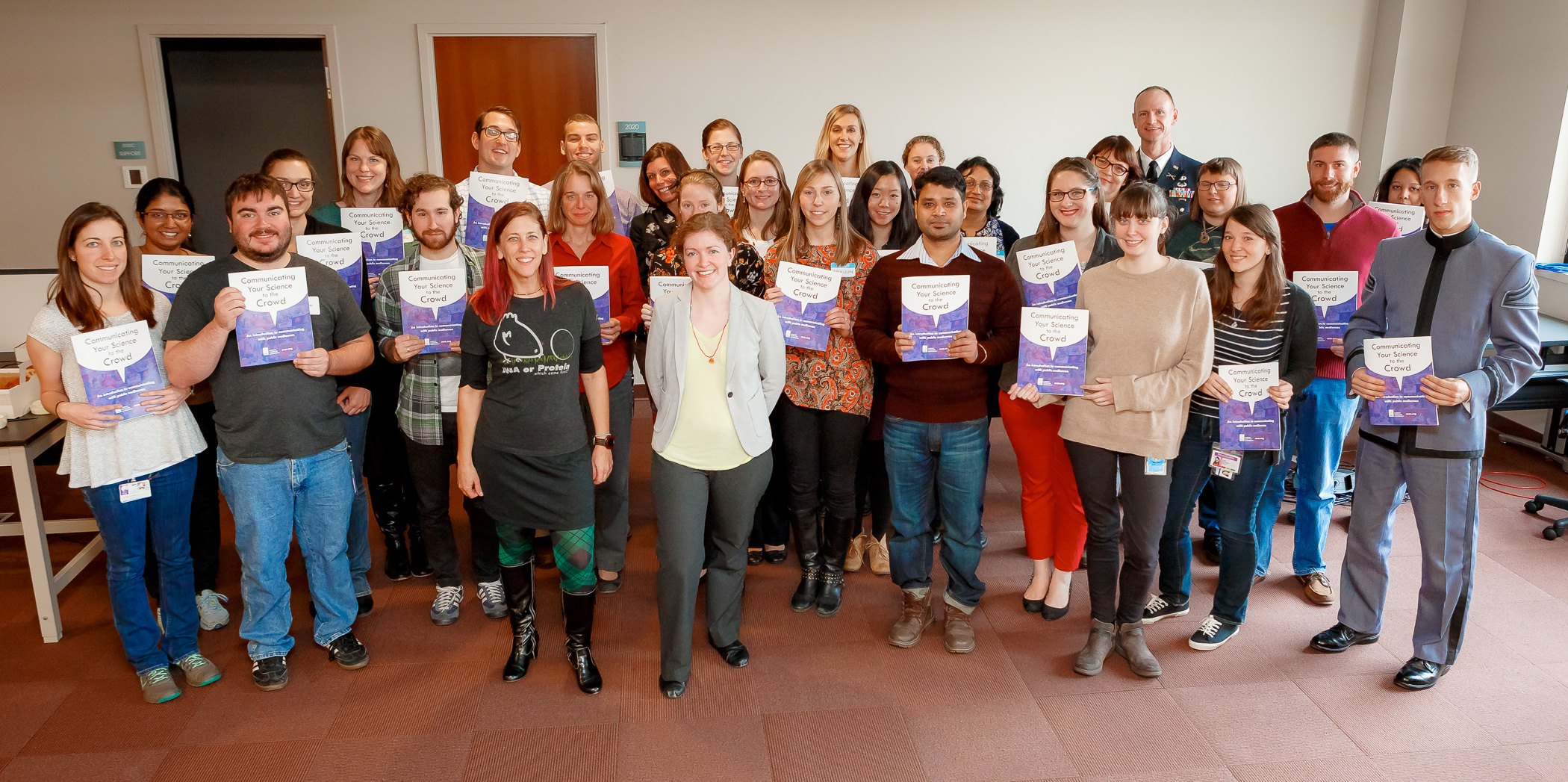 Front left to right: Workshop facilitators Dr. Tamara McNealy and Dr. Katherine Lontok with workshop participants.
Dr. Katherine Lontok, Public Outreach Manager at ASM and Dr. Tamara McNealy, Associate Professor at Clemson University, led the interactive workshop developed by ASM's Communications Committee.
Students practiced identifying their audience, honing their message and delivering it in a way that connects with their audience.
After the workshop, a student and post-doc poster session showcased the work being done by researchers in the region. Four abstracts were selected for oral presentation following the poster session.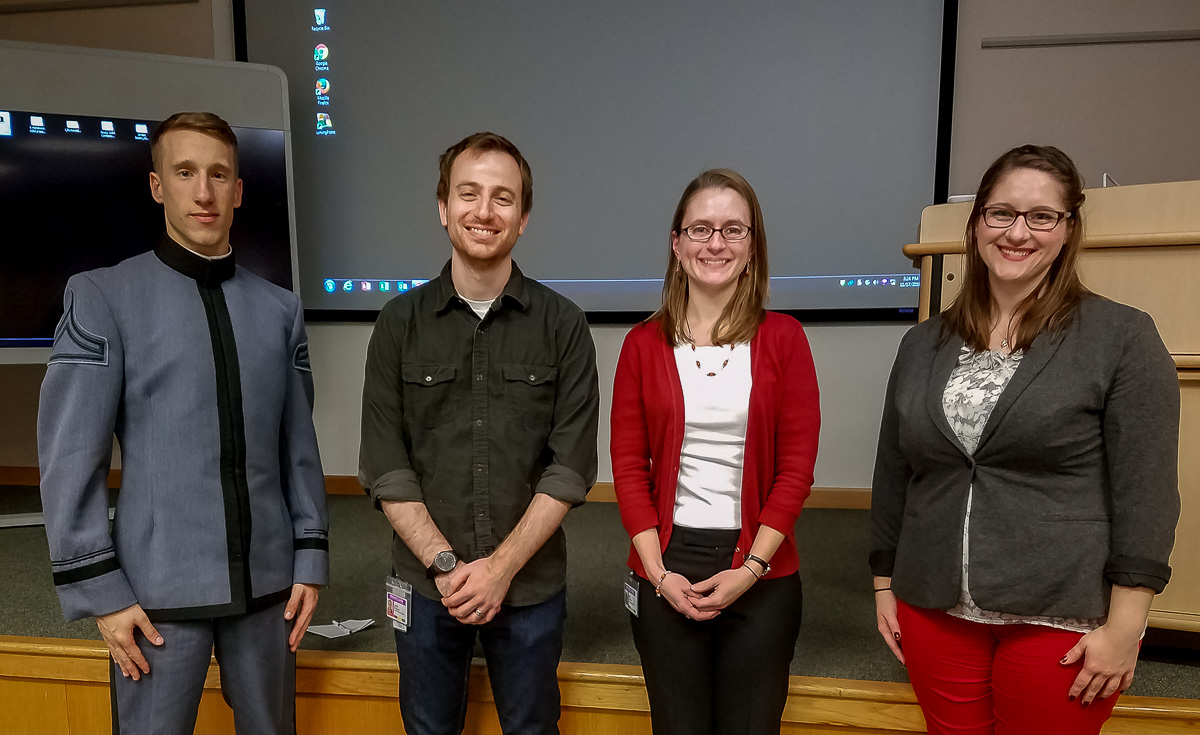 The four chosen to present their work. They each received $100 and a certificate from ASM. Left to right: Jordan Isham, West Point; Jacob Richards and Kelly Hallstrom of the Wadsworth Center and Alicia Soucy, Albany Medical College.
The keynote address entitled The Pathogenesis of Research Misconduct was given by ASM Distinguished Lecturer Dr. Ferric Fang from the University of Washington, Seattle.
His message was not about how scientists communicate with non-scientists, but rather how they communicate with each other. Dr. Fang cited several instances of misconduct, from duplicated and manipulated images to Sharpie-enhanced mice.
Dr. Fang provided numerous examples to support recent findings that the frequency of falsified data is much higher than many realize.  He also discussed the many challenges this poses to both scientists and the community at large, while emphasizing the need for vigilance in maintaining rigor and honesty in our everyday work.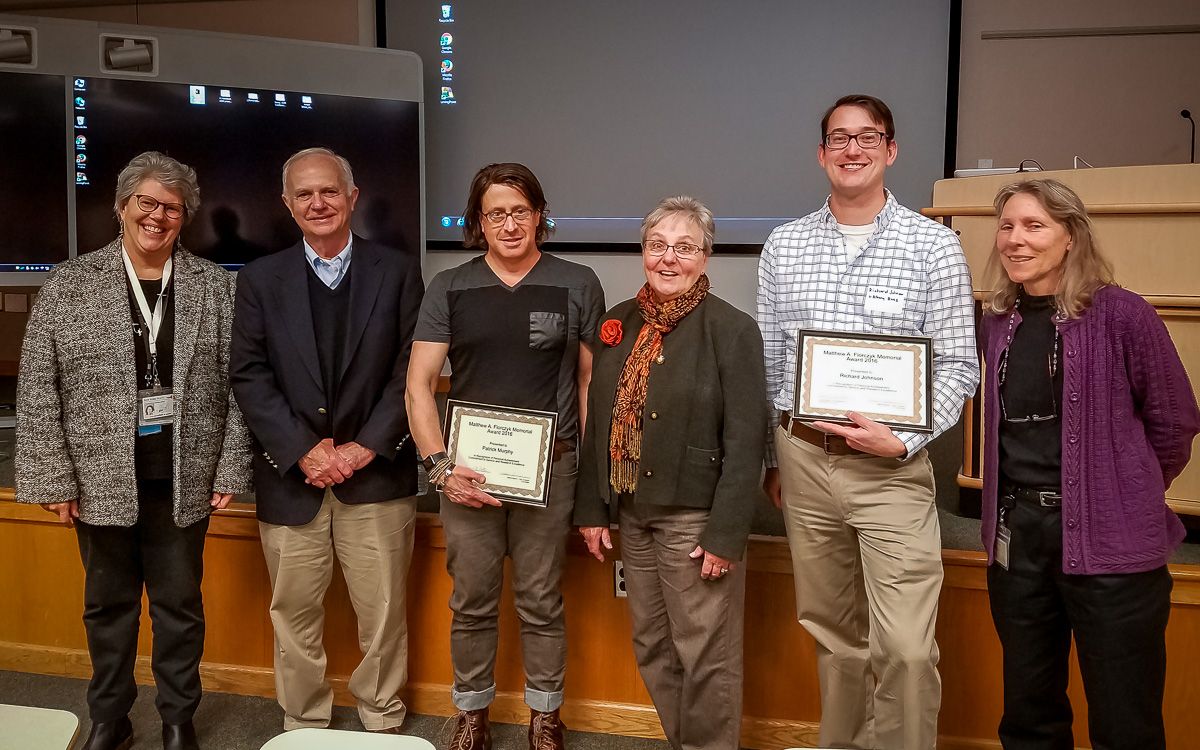 Presentation of the Matthew A. Florczyk Award. Left to right: Dr. Joan Curcio, Matt's father Al Florczyk, award recipient Patrick Murphy from Dr. Curcio's laboratory, Matt's mother Ginny Florczyk, award recipient Richard Johnson from Dr. McDonough's laboratory and Dr. Kathleen McDonough.  
Very appropriately, the Matthew A. Florczyk Award, given to current Biomedical Sciences Students in recognition of personal achievement, commitment to service and research excellence, was presented during this student-sponsored event. Matt, who passed away in 2009, was himself a student in the Biomedical Sciences Program and a post-doc at the Wadsworth Center. The award was intentionally given at this event in honor of Matt's enthusiasm for such scientific events.