Congratulations on your new addition! The Newborn Screening Program, a service of the New York State Department of Health, is proud to be a part of this important time in your life. Our brochure, For Your Baby's Health, explains the Program and the screening process. The brochure is provided to every mother upon delivery in the hospital, be sure to get one. You may download an edition of the brochure in your primary language below:
For Your Baby's Health Brochure
Checklist for Expecting Parents
If possible, choose a primary care provider for your baby before the baby is born. Bring the following information about your baby's primary care physician with you to the hospital:
Provider's Name
Address of his/her primary office
Phone number
Fax number
Email address
Put the information in your hospital bag or store it in your phone so you have it when you need it. This information is very important. Make sure the hospital has a valid:
Name
Address
Home phone, cell phone, or an emergency contact number if you do not have access to one
Some hospitals will allow you to pre-register so the information is already on file when you give birth. You will receive a pink parent's copy of the newborn screening form with a Lab ID number (in the upper left corner) when the blood collection is done.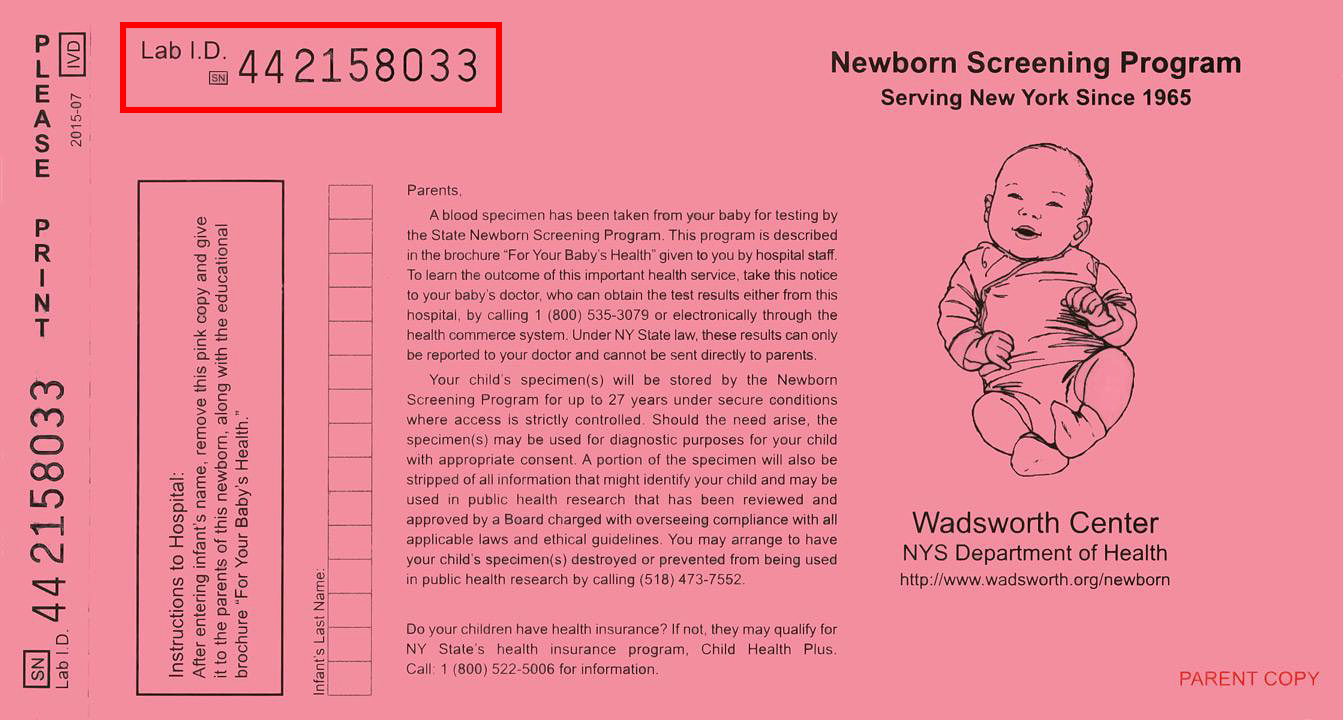 This number will allow your baby's doctor to get the results easily. Put the pink parent's copy with your insurance card so you remember to give it to the doctor, enter the Lab ID number in your phone or use your phone to take a photo of the pink paper. Make sure the Lab ID number is readable. Save this paper and bring it to your baby's first doctor appointment.
If you are asked to have your child retested, please do not delay.
If you move or change phone numbers after your baby is born, please contact your healthcare provider with your new information.
If you decide to change the baby's healthcare provider soon after birth, please contact the Newborn Screening Program. You can email us or call (518) 473-7552. Please include the Lab ID number on the pink parent's copy in any email so we can update our records and ensure that we contact the correct person, if needed.
Forms for Families
Helpful Links for Parents